You can create the leather belt that suits you. You can choose the parameters and the images will help you choose the buckle and leather color.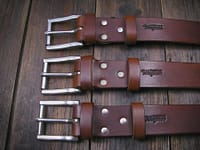 These belts are made from the finest leather, specially tanned for belts. It's strong, thick cowhide that will undoubtedly be your companion for decades.
This type of natural leather develops a beautiful patina over time as there is no plastic coating on its surface (full grain). It takes time to break in a belt like this, but it will last a long time.
The buckles and studs are made from real quality materials. They are made entirely of stainless steel and brass.
The belt costs 40 EUR
Price of the belt if you pick it up at the workshop 44 EUR